Mini courses - Less Cost, Less Commitment
Have you considered our mini courses?
10 hours of study, $99, enrol at any time.
Self pace your studies! Less cost, less commitment.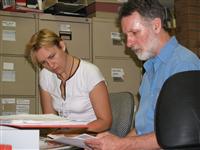 …and lots more!
See http://www.acsedu.com/


Learn to Manage Time and Stress better!




Tired, Stressed? Two courses that may help:
Personal Energy Management has been developed by Ameria's leading expert on the subject.

Learn to manage your energy level to get the most from every day
Stress Management - Updated and expanded recently by leading Health Scientist, Alison Sweet.

Download the latest version of our Handbook (recently revised)

Website news
Lots of additions/changes for your holiday browsing!
1. Major upgrade to http://www.acs.edu.au
Check it out - The whole site has been rewritten in state of the art, ASP.NET2, which
means it runs faster!
2. Bookshop http://www.acsbookshop.com
The range of titles has increased around 33% over the past month - so there's now more to choose from! And remember, if you are an ACS student, in our bookshop, you can claim your 10% student discount!
3. Webphotos http://www.webphotos.com.au
More photos to choose from, more articles to read!
4. Student magazine - For your holiday reading
Click to see some great articles written by ACS students.

If you are an ACS student or staff member and would like to submit an article, please do so!
Send your articles to [email protected] (with the subject "Student/Staff Article Submission".)

WHY? Getting published like this can in fact help further your career. This is a unique opportunity we have put in place to help our students get an "edge" in the publishing industry.

Important AAA FarmBis Dates
AAA FarmBis is part of the Australian Government's Agriculture Advancing Australia(AAA) package.
The program provides financial assistance to primary producers and rural land managers to undertake business and natural resource management training and education activities.

ACS offers certificates that are eligible for FarmBis funding.
Key FarmBis Dates:
To assist ACS in planning your training activities for next year, here is a reminder of the imporantant dates for the AAA FarmBis program in Queensland:

31 March 2008: Closing date for applications for subsidy
30 June 2008: all training completed
14 July 2008: All claims for funding received by QRAA.