Are you an ACS Student on the Gold Coast or surrounds?
We are looking for models for a photoshoot. If you're interested, or want to find out more, please contact [email protected]
Past ACS Students – profiles please!
We want to hear from you! What are you doing now? What did you study with us? How have you applied that knowledge? If you are interested in being interviewed, please contact [email protected] Many students find that this is also good free publicity for their companies.
Career Opportunities: Skills Shortage in Agriculture & Horticulture
Click here to read this controversial article.
Will Australia & the UK starve or become malnourished?
Scary thought maybe, but there are real possibilities we should be worrying about.
More and more foods are being imported
Fuel and transport costs are increasing rapidly
Colleges have fewer students in horticulture and agriculture courses.
You have to wonder… if food import costs increase and the skills needed to grow food decreases; will we reach a point where we simply don't have enough affordable food in the shops?

We all know that food contains more nutrients when it's fresh; but we seem on a path that will lead to much less fresh food being available.
Maybe for the sake of your family it's time to start thinking about going back to what your grandfathers did and starting a vegetable patch at home?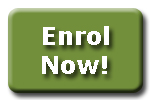 Home Based Businesses Set to Boom
A recent study showed that a person's 'level' of happiness could be calculated down to a triangle of time – the points of the triangle being home, work, and your supermarket. The amount of time it takes to get from home to work and to the supermarket should be no more than half an hour, total, for optimum happiness! You can see then why working from home is becoming more and more popular. No more sitting in traffic, no more expenditure on rising fuel prices, more quality time with family, and women are able to have their cake and eat it too, by fulfilling their maternal needs as well as their professional needs.

There are lots of things you can do from home; and our courses are an ideal starting point. Careers that can be home-based include:
Bookkeeper; Garden Designer; Counsellor –Family counselling, grief counselling, life coach etc; Plant Nursery –some people make a living from a suburban backyard; Web Site Designer; Mail Order Business; Freelance Writer or photographer; Computer Service/repairs; Natural Therapist; Consultant …and more
Talk to us –we can help you map out a sensible, achievable path to developing your own home-based business.
HEALTH RECOGNITION
ACS has as a College, satisfied the Complimentary Medicine Association of their expertise in the practice of Counselling, Naturopathy, Nutrition, & Natural Health.
The CMA is the peak body in this industry in the UK.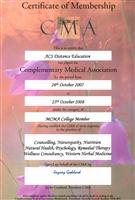 FAQ's: click through for answers
1. How do I enrol? How do payment plans work?
2. Can I do exams from anywhere? How?
Yes – exams can be sat anywhere in the world. Click here for more info.
3. Are these courses credible?
Very! Click here to find out more!
4. How can I save on cost of a course?
Special offers or scholarships are offered periodically on a small range of courses. These sometimes provide significant savings.
If you are not concerned with getting a "formal pass", you can purchase a CD study program without enrolling as a student at half price. (You have the option to pay an upgrade fee if you want to register as a student and have assessments done later on).
Many (though not all) courses are available on CD. If you choose the CD option with tuition (e.g. a tutor guiding you through your study, and marking your assignments) fees are 10% lower. If you choose the CD option without tuition, (although self assessment tests are still included) fees are 50% lower!
We offer a standard 5% discount to existing students when they enrol in a second course.
The cost per module is always less if you enrol in a certificate or Proficiency Award
Paying fees in full will be cheaper than paying in parts (on terms)
If two or more people enrol and share the same set of notes they can arrange a 25% discount if the FULL fees are paid on enrolment.