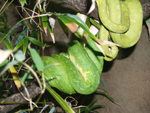 ACS Student Testimonial - Herpetology
Katie Tomlinson is studying Herpetology (BEN209). Her tutor is Barbara Seguel. This is what Katie had to say about the course:
Is your work being marked satisfactorily?
"Yes, I am very happy with the feedback from my tutor."
Did you find the course to be a valuable learning experience? Why?
"Yes, I have found that the course is very well structured and that I am very thankful for my tutor who is always giving me encouragement and will show me where I have made any mistakes and how I can improve my work."
Overall comments you may wish to make:
"This course has been one of the best learning experiences for me as I have found myself constantly wanting to study despite the fact that I don't enjoy reading. I am also very impressed with the online student room."

Are you wondering what Herpetology is? Quite simply, herpetology is the study of reptiles and amphibians. If you love your snakes, frogs and lizards, this is the course for you. Read about what you will learn from the course by clicking here.